Welcome to the historical website for the New London-Waterford Speedbowl
---
CHECK OUT THE FIRST 2 OF OUR 6-PART DOCUMENTARY SERIES ON THE CHRONOLOGICAL HISTORY OF NLWS
PART TWO (1961-1974)
DON COLLINS * CHARLIE WEBSTER * NEWT PALM * DICK DUNN * DICK CASO
CHECKERBOARD 716 * L&M COUPE * M PINTO * BUDDA'S BULLET * OLLIE SILVA
SPORTSMEN MODIFIEDS * BOMBERS * DAREDEVILS * BILL SWEET * GADA RACING
BIG MIKE DAIGNAULT * POWDER PUFF DERBIES * DEMOLITION DERBIES * A SPEEDBOWL WEDDING
THE MOTORCYCLE TRACK * THE LAST YEARS OF THE ORIGINAL OWNERSHIP GROUP
Visit our DVD store to buy PART 2 of our documentary series on DVD
---
PART ONE (1951-1961)
ORIGINAL TRACK CONSTRUCTION * THE DIRT TRACK * MONEY BAGS MOE GHERZI * DAVE HUMPHREY
AAA MIDGETS * THE NON-FORD DIVISION * R.I.P. JACK GRIFFIN * FRED LUCHESI * RED FOOTE
DIRTY DICK BEAUREGARD * DON COLLINS * BILL SLATER & THE CONNECTICUT VALLEY ROCKET
UNITED STOCK CAR RACING CLUB * CHARLIE WEBSTER * TED STACK
Visit our DVD store to buy PART 1 of our documentary series on DVD
Visit our Speedbowl Documentary page to watch more nostalgic videos
---
OUR STATISTICAL DATABASE WILL BE UPDATED AFTER THE CONCLUSION OF THE 2015 SEASON
Our website includes a detailed statistical history of the New London-Waterford Speedbowl from our own research conducted since 2005. The menu atop each page will help you browse through our database. Below is a brief description of the main sections:
---

Check us out on Social Media
Like our fan page
Follow us on Twitter
Subscribe to our video channel
---
We are currently producing a 6-part documentary series on the Speedbowl's history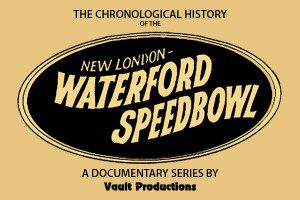 Click our logo to watch part 1 or to purchase the series on DVD
---
Our short track racing web series is filmed primarily at the New London-Waterford Speedbowl
Click our logo to browse our entire web series archive from 2010-present
---
Be sure to visit the NLWS official website for all the latest info on the current season
---
​Please feel free to contact us at any time with any questions or comments about our research, our videos or our website.
In the meantime, enjoy your trip down the memory lane!