CHECK OUT PART 1 OF OUR 6-PART DOCUMENTARY SERIES ON THE CHRONOLOGICAL HISTORY OF NLWS
a documentary series by Vault Productions
PART 1 (1951-1961) – 69 mins
Visit our Speedbowl Documentary page to watch more nostalgic videos or
use the menu bar atop each webpage of this site to browse our statistical research of the track
---
OUR STATISTICAL DATABASE WILL BE UPDATED AFTER THE CONCLUSION OF THE 2015 SEASON
Welcome to the historical site for the New London-Waterford Speedbowl, a 3/8 mile asphalt oval racetrack located in Waterford, CT. Our website includes a detailed statistical history from research we started back in 2005. The menu atop each page will help you browse through our database.
---

Check us out on Social Media!
Like our fan page
Follow us on Twitter
Subscribe to our video channel
---
We are also currently producing a documentary series on the Speedbowl's history which includes interviews from many people involved at the track over the years, footage from our vast video archives and pictures from many of the track's photographers.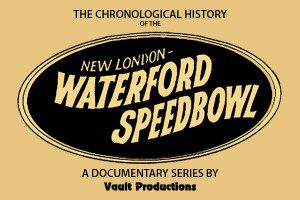 There are also video links throughout the Almanac and Special Features sections from our video archives & our documentary series.
---
You can also check out our web series Sid's View filmed primarily at the New London-Waterford Speedbowl
---
Be sure to visit their new site to follow all of this season's events
---
​Please feel free to contact us at any time with any questions or comments about our research, our videos or our website. In the meantime, enjoy your trip down the memory lane!